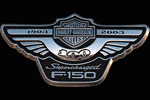 My 100th Harley-Puter
The Pieces
---
---
---


Ok people,


Here is a little project I have wanted to build for a long time now. A computer in a car, I have started this project several times with different motherboard combinations but something always hung me up. Usually it was buying a different car. So, Now I have a vehicle I don't think I will be getting rid of any time soon. My supercharged 100th anniversary limited edition harley davidson f-150.

I have started gathering parts that I thought would be good to start with and that I could find easily and inexpensivly.




---
1st. I picked up a PC Chips VIA mini motherboard with C3 processor onboard video and sound, up to 7 USB 2.0 ports. 2 PCI slot, 1gb ddr333 2700. $43.51 new on e-bay






---



2nd. I picked up an M1-ATX Smart Car 90w DC to DC power supply. 56 bucks, New on E-bay.





---




3rd. I picked up another seperate DC Power Supply Regulator to send the power to the LCD touch screen. I have several, not sure which one I will use. $9.90 new on E-bay.





---




4th. I picked up a Peltier Cooler & Temperature Controller to combate the heat in a car here in vegas. $15.40...Once again new on E-bay.





---




5th. I picked up a laptop DVD±RW Drive. Referbished on E-bay for 21.99





---




6th. I picked up adapters for converting IDE cables to laptop hard drives and CD/DVD drives. Frys/ebay about 6 bucks a peice.

CD/DVD adapter




and the hard drive adapters






---




7th. I grabbed a pair of INNOVATEK L7M 7.2" lcd monitors. new on E-bay, $89.99 for a pair. These haven't arrived yet






---




Other items I have on hand. 15" widescreen LCD with ELo touch interface. In an industrial case. A 12.1" industrial touch screen. Broken glass on touch screen...looking for replacement. Pics 1, 2, 3,
and an 8" LCD monitor.(this one is powered by the PC's power supply.I will probably use this one at first because of it's ease in instlation.)

Front




and the back.







---
OK, now you are kinda cought up on what I have gathered so far for this project. Here are my concerns I have to date.


---
Concerns
1st. I am not sure how I am going to hook up sound. I really do not want to change anything in my truck. It's a collectors item. From what I have been reading, they don't make an adapter to to connect to my existing factory in dash 6 disc changer. I also hear that fm transmitters and fm modulators suck. Any answers?
2nd. I do not have tv out from my motherboard, I would like to add a tv tuner fm tunner card with tv out and with support for more then one monitor so I am able to have different resalutions on the monitors.
3rd. I would like to add GPS and i'm just not sure where to even start with that. I have read a bunch of things that say it's the new technoligy and they are all different, so what ones are newest, Or better yet best?
4th. I am thinking some kind of blue tooth for the keyboard....Frogpad maybe? anyone used them? I just want something small and wireless. Infrared needs line of sight. Maybe RF? Any opinions?


---







So, Now that we know what I am starting out with. Lets see how I am putting it together.

Continue to PG.2 to see the assymbled case


---
---